What is Waitbird?
Waitbird is a digital waiting list. Customers who are waiting can register themselves or be registered by staff. Customers can spent their time waiting somewhere else and will get a push notification when they need to come back.
Waitbird does not reserve time slots, the list can easily be rearranged by your staff.
System requirements
The Waitbird webapp has very low system requirements.
Companies can access the application using a computer with internet access.
Customers use the smartphone app for Android or iOS.
Waitbird App
See your spot in the queue at a glance.
Get notified when it's almost your turn.
Use your free time efficiently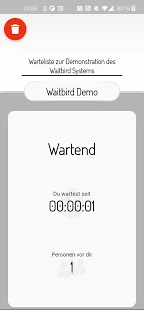 Where can Waitbird be used?
From healthcare offices to government services Waitbird can be implemented anywhere where people might need to wait in line.
By allowing people to wait away from the typical waiting room Waitbird can help decrease the costs of space for waiting rooms, reduce the risk of infections and improve customer satisfaction, while at the same time guaranteeing customers being notified in time.
Government services can be improved by reducing long waiting times for customers and therefore improve the government's standing in public.
Waitbird is perfectly suited for waiting lists in the service sector. At a restaurant or at the hairdresser's, your customers will be thrilled.
Waitbird can also be used in other sectors. For questions regarding customized solutions please contact us.